Welcome to Landcare Tasmania's monthly bulletin
---
Would you like to receive The Dirty Hands by email? Click here to sign up.
---
Restoration of Skyline Tier, Scamander
One of our member groups, the North East Bioregional Network (NEBN), has been overseeing the restoration activities on Skyline Tier since 2007. This project involves the restoration of over 350 hectares of radiata pine plantation back to its original forest type of predominantly iron bark (Eucalyptus sieberi) .
The process for rehabilitating this site after clear-felling the pine plantation is largely to allow natural regeneration (not revegetation) to establish and to continue with the removal of the one main re-emerging weed, radiata pine seedlings.
Through careful planning and management, the group has been able to utilise paid and volunteer teams to effectively restore significantly large areas in a cost effective and long reaching way. The benefits from the restoration project for the community include carbon storage and sequestration values, biodiversity and conservation values and economic, employment and training opportunities.
Below is one of the sites that was burnt following plantation removal in 2012, with the subsequent native regeneration in 2018.
 Just after burn in 2012               
Natural regen in 2018                             
(all the green is from the existing native plant seed bed and the weeds have been removed)        
There are a number of documents on this and other amazing projects that the NEBN are involved with, see the links below.
http://www.northeastbioregionalnetwork.org.au/
https://www.youtube.com/watch?v=8V_mTJs6aEc
---
Member's Outreach BBQ at Fernglade Reserve, Burnie
We are pleased to say our first MOB of 2018 was a great success!
Around 60 Landcarers, young and old, from 14 member groups, came along to the beautiful Fernglade Reserve. A big thank you to all of those who joined us!
Friends of Fernglade gave Landcarers a tour of the reserve and showed how they are maintaining the area as a conservation asset and a tourist drawcard for cruise ship visitors. The group's convenor Vivienne Briggsdemonstrated the QR (Quick Response) codes they have used on extensive signage installed throughout the reserve, which bring up-to-date information on the reserve to visitor's mobile phones.
After a relaxing BBQ on the bank of the Emu River, a number of volunteers enthusiastically donned their waders to get up close and personal with water bugs and were guided through the new National Waterbug App (See Article Below).
For the full article and more photos click HERE
The Next MOB will be down south in Cambridge on the 20th May, so stayed tuned for more information.
---
An easy app for waterbug identification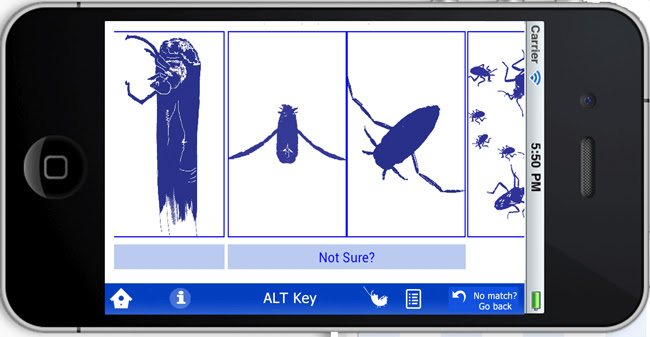 Our specialist speaker at the MOB at Fernglade was Dr John Gooderham, Freshwater Ecologist with the Waterbug Company. John's work is part of the National Waterbug Blitz, a great citizen science initiative for collecting data on the health of rivers and wetlands around Australia. John showed participants how to collect waterbugs from the river, and how to use the newly developed Waterbug App to identify the bugs which is helping to build a better picture on river health around the country.
The app makes it so easy, using the silhouette of the bug plus a simple key. There are even photos and videos there to help you identify your bug, and help from specialists (mad scientists) on social media such as Facebook. You can save a photo along with your guess as to what it is. Every identification you make contributes to the national database and you gain higher accreditation with the more familiar you become with your patch.
Download the app for free and have a go, it's fun!
We will be running introductory waterbug sessions around the state, so contact us at Landcare Tas if you are interested.
You can find more at http://www.thewaterbug.net/ or on facebook https://www.facebook.com/waterbugface
---
Support Landcare with an End of Financial Year donation
Tasmania's network of 200 community Landcare groups and over 3,300 members and volunteers do an amazing job caring for our bush, coasts and soils.
Our census of groups last year gave us a good picture of what the greatest needs of community Landcare groups are, and here at Landcare Tasmania are doing all we can to find ways to deliver these.  Many of these are the 'people' things that define community Landcare - help sourcing volunteers, training around weeds and safety, promoting events - while others relate to being able to access specialised equipment like wildlife cameras.
Your donation will help Tasmania's Landcaring community to do more.  Donations over $2 to the Tasmanian Landcare Fund are tax deductible.  Click the image below to make a donation.  It's a great way to help make a difference to our natural and working landscapes and the thousands of people who volunteer to care for them.

---
New Landcare groups
It's great to welcome on board the following new Landcare groups:
Dolphin Sands Ratepayers Association - The Dolphin Sands Ratepayers Association represents the residents and ratepayers of the fragile sand spit bordered by Moulting Lagoon to the north and Nine Mile Beach to the south. 
Cemetery Point Coastcare Group - The Cemetery Point Coast Care Group aims to maintain the remnant coastal vegetation and revegetate the grazed area of the coastal reserve between Saltwater River Road and the convict period cemetery at Cemetery Point. 
Lewisham Landcare - 'Lewisham' is a wool producing property on the Midlands Highway between Ross and Campbell Town. The wool produced on Lewisham is sold as Ethical wool. Our management practices, animal welfare practices and environmental credentials allow us to access this international recognised scheme.
---
Thursday 26 April 2018
Saturday 28 April 2018
Sunday 29 April 2018
Tuesday 1 May 2018
Thursday 3 May 2018
Sunday 6 May 2018
Monday 7 May 2018
Thursday 10 May 2018
Sunday 13 May 2018
Thursday 17 May 2018
Sunday 20 May 2018
Thursday 24 May 2018
Saturday 26 May 2018
Sunday 27 May 2018
Thursday 31 May 2018